---
Petite Blue Jeans
---
Shop For Your Petite Blue Jeans Right Here! Or find the store you trust from the list down below of the most popular stores which carry petite size jeans. You can also find your jeans by inseam size by choosing your inseam from the right column.

Where To Find Petite Blue Jeans
If you know where to look for petite jeans, then finding petite blue jeans shouldn't be an issue. When we say jeans the first thing that comes to our mind is the color blue, the original color of denim. Although many designers offer various colors other than blue, their first offers always come in main shades of blue.
So if you found this site, you are in good hands. Here you can find many color choices in blue denim, from very light to very dark blue. For short women like you and us, the best blue denim color is the darkest blue because it makes us look slimmer and taller.
We've gathered the best resources for petite jeans in one place to make sure you were not disappointed again for waisting your valuable time.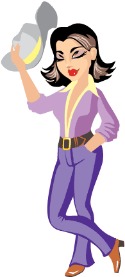 6 PM jeans section carries a good selection of blue jeans and their inseam sizes start from shortest 25" inseam and you can choose them by any inseam length size as well as waist size and color, and price, and brand and more. So you can easily find out if there are the Jeans you are after.

American Eagle offers short inseam jeans at 30" - 30'5". Their jeans sizes are 00-18, which will cost you anything under $60. Their jeans styles include vintage flare, new modern flare jeans, sexy skinny fit jeans, slim through hips, easy through hips jeans and more.
Banana Republic petites are of 30", 30'5", 31" inseam. You can easily choose within the price range from around $30 to $90. Sizes 00P-14P.
Boscovs offers jeans of classic and comfort styles at affordable prices. You'll have a good choice of blue jeans too. So do consider it when shopping for any petite items. No international delivery though. Ships to 48 US states only, besides Alaska and Hawai. ;(

Debenhams jeans for petite women are under £60. There are quite a number of them in original blue denim color. And they ship to over 65 countries and counting.

Dorothy Perkins carries skinny jeans in petite inseam and in blue too. And they can deliver to your country too, I am sure. As the list of countries they ship to looks endless.

Gap's skinny jeans inseam - 29", straight jeans inseam is 29'5", the rest of their jeans are of inseam length of 30". Jeans are at prices under $80. Their petite jeans sizes are from 00P to 20P. They carry flare jeans, curvy, sexy boot, long and lean, straight, skinny jeans.
J.jill carries 25", 27", 30'1/2", 30" and 31" inseam blue jeans for under $90. You can find such styles jeans as the boyfriend jeans, slim leg jeans, skinny jeans, denim overalls, boot cut jeans, cargo pants, capri jeans.
Kmart women's petite jeans in blue are of such brands as Rider (Lee), Covington, Chic, Kayo. And they ship internationally.

Kohl's short inseams are 26"-27" and petite inseams are 28"-29"-30". For under $40 you can pick a great pair of jeans in size from 6P to 16P.
Loft petites are very flattering and modern. Their jeans are very dressy and mostly worn with high heels. Do chekc thir dressy pants too, they have a very rich collection. Sadly, no internationl shipping option at the moment.

Nordstrom petite jeans inseams are 29'5", 30", 30'5" of sizes P XXS - P XL, Petite Plus 14WP-24WP. Their designer petite jeans will cost you within a wide price range of around $40-$200. They offer such brands as 7 for All Mankind, Citizens of Humanity, Not Your Daughter's Jeans.
Old Navy petites are of 29'5" inseam. Their jeans are at affordable prices under $40. Such styles as skinny jeans, straight-leg jeans, trouser jeans, capris, bermudas, denim shorts, denim pencil skirts, denim vests, legging jeans, denim jackets.
Zappos.com jeans store is easy to use. You can choose your jeans by inseam size. Their petite inseam size start from 26" - 66 cm, then you have, 27", 27'5", 28", 28'5", 29", 29'5", 30", 30'5" and 31".

Note: All designers inseam length for petite clothing vary from one another.
Go Back To The Top Of This Page
---
Find Your Blue Jeans In Size Petite

Go Back To The Top Of This Page
---
"Jeans represent democracy in fashion." - Giorgio Armani
Leave Petite Blue Jeans to go back to Petite jeans main page
Back to Petite Clothing Line home page
---