Women's Petite Jeans
Your Ultimate Petite Jeans Online Source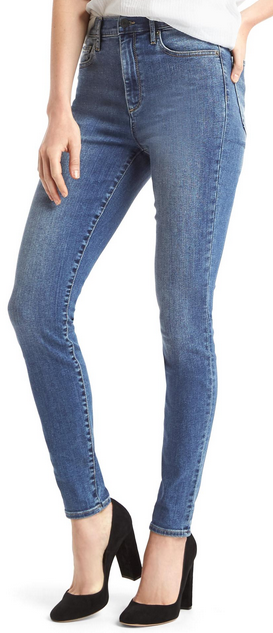 Super High Waisted Petite Jeans
Where To Find Petite Jeans
Dorothy Perkins cater for petite women under 5'3". Their petite skinny jeans inseam is 29" (73.5cm) from size 4-18. Prices vary from £10 - £20. And if you are not in the UK, they deliver it internationally.

Gap which is under the same group as Banana Republic, Old Navy, Athleta and Piperlime, has a very good selection of jeans in petite size. You can find jeans from $30 to $80. The styles vary from skinny jeans to flare. Petite inseam length is 30", for Always Skinny style it is 29 and for Real Straights it is 29'5".
House of Fraser jeans in petite sizes are of various inseams, some being 27'5". They represent such exclusively petite names as Precise Petite and Minuet Petite, as well as CC. Prices during sale can start from around £20. You can also find some jeans from NYDJ at £130.

Lands' End UK offers true blue petite classic denim of US size 4-14 which are UK sizes 8-16. As per the inseam length this is what LE says - "Petite trousers can have turn-ups from 25"-29" (63.5 cm – 74 cm), and without turn-ups, can be hemmed from 25"-31" (63.5 cm – 78.5 cm), or left unfinished for you to hem yourself." Price are at 30-£60.

JCPenney has a good range of jeans in petite size of such popular denim brands as Alfred Dunner, Lee, Levi and others. It is also an exclusive retailer of Liz Claiborne Petite Jeans. You need to look for Petite Short sizes when you are on their website as their Petites as of regular inseam.

Macy's petite size start from 0P to 16P and designed for petite women 5'4" and under. You can find jeans from around $20 to $200. Such brands as 7 For All Mankind, Calvin Klein, DKNY, Ralph Lauren and more. Inseams vary by brands and styles.

Nordstrom petite designer jeans price vary from around $40 to $220. they carry such brands as Citizen's of Humanity, Hudson Jeans, Not Your Daughters Jeans, Paige Premium Denim and others. Various inseam lengths.

Old Navy denim in petite vary from just over $15 to $35. They carry super stretch, skinniest fit jeans as well as other petite slimming jeans. Inseam length for petites is 29'5".
Zappos jeans department is very easy to navigate and you can find your jeans by inseam length. It's so important as you don't have to look through the details of each pair of jeans. They offer jeans in petite inseam lengths like 25", 26", 26"5, 27", 27"5, 28", 28"5, 29", 29"5, 30" and others. No international delivery is available. US and US military FPO/APO adresses only.

6PM also lets you choose your jeans by inseam lengths, which is so handy. Their jeans lengths are 25", 25"5, 26", 27", 27"5, 28", 28"5, 29", 29"5, 30", 30"5 and longer. They do have jeans shorter than 25", however they are all crops.
Petite Jeans Size Chart
Note that this chart serves as a general guide, as sizes differ from one manufacturer to another.
| | | | | | |
| --- | --- | --- | --- | --- | --- |
| Jeans Sizes | | | Waist | Hips | Thigh |
| XXSP | 00 | 24 | 22½" | 34¾" | 20½" |
| XSP | 0 | 25 | 23½ | 35¾" | 21" |
| XSP | 2 | 26 | 24½" | 36¾" | 21¾" |
| SP | 4 | 27 | 25½" | 37¾" | 22¼" |
| SP | 6 | 28 | 26½" | 38¾" | 22¾" |
| MP | 8 | 29 | 27½" | 39¾" | 23½" |
| MP | 10 | 30 | 28½" | 40¾" | 24¼" |
| LP | 12 | 31 | 29¾" | 42" | 25½" |
| LP | 14 | 32 | 31" | 43¼" | 26½" |
| XLP | 16 | 33 | 32¾" | 45" | 27¾" |
| XLP | 18 | 34 | 34¾" | 47" | 29" |
---
Leave Petite Jeans to return to Petite Clothing Line Home Page | About Jeans

---