Petite Formal Dresses
Shop For Your Petite Formal Dresses Just Here!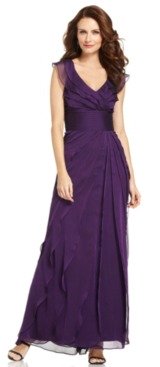 Evening Dresses | Special Occasion Dresses | Cocktail Dresses
Petite Formal Wear Stores | Hand-Picked Formal Dresses
Petites' Shopping Tips

What you need to know when looking for formal dresses:

If you find it hard to decide over the color of your petite formal wear, my best advice is to go for little black dress. It's always fashionable and never looks out of place. As for the length, considering you are petite, I recommend either knee length or above knee length dresses.
Image credit to Macy's

---
Top Picks - Petite Formal Wear

---
Here is the collection of all sorts of petite formal wear: dresses with jackets, dresses with long sleeves, long dresses, gowns, short dresses and more. So don't just give up having looked at the top few. Take your time and enjoy the process!!! And you'll be rewarded. You are bound to find you dream dress just here!

---
Stores - Recommended By Petite Women

Amazon US and Amazon UK feature formal evening dresses from many famous brands and they make it easy to find exactly what you want. These links will take you to their petite size formal dresses collection. Then it's up to you to choose from the left column your favourite brand to narrow your search down. Or enter a new search term like "petite evening dress with sleeves" or "petite evening wear with jackets" etc. It will help you get the best results.

Macy's  women's dresses department has the largest selection of petite evening and formal dresses to choose from. You have a choice from long dresses and gowns to shorter length dresses, dresses with jackets, dresses with long sleeves. Their prices vary from under $50 to over $400. Brands: Adrianna Papell, Alex Evenings,  Sizes PXS to PXL (0P to 18P). If you found your dream formal dress at Macy's, you can have it shipped to over 100 countries, including UK.
Petite formal dresses of Dillards is another must-check. It carries well known brands such as: London Times, R & M Richards, S.L.Fashion and more. Sizes PS-PXL (2P-16P). Price vary from just under $50 to $300.

| | | |
| --- | --- | --- |
| Use this search box to find more petite formal wear. Type your search item in the box and click on Go. Good luck with your search for your best formal wear ever! | | |
Go to Top | Petite Formal Dresses Collection | Petite Dresses | Petite Clothing Line

---