Petite Plus Size Tops
Your Ultimate Petite Plus Size Tops Resource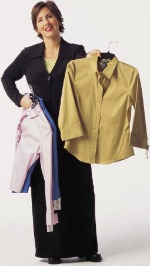 Most plus size shops do not categorize their tops into petite plus sizes.

It must be because there's not much that can go wrong with tops, unless they have long sleeves or they are tunics. Depending how petite you are some tunics can look like dresses on your body.

If I were you I would check any plus size store. Although they don't show the sizes as petite plus, you'll be surprised what you can find there that fits you and more.

So patience my dear petite. It can get you some great stuff in petite sizes.
---
Where To Find Petite Plus Size Tops
---
Alloy and dELiAs carry teen style tops in extended sizes. You can find knit tops, shirt and blouses, sweaters and tees from XS to XXXL at Alloy and 2XL at Delias.

Boscov's offers plus size cardigans and sweaters as well as casual tops from 1X to 3X sizes. At their affordable prices you can have a great choice of colors and styles that would suit petite plus shapes.

Plus size tops at Catherines do come in petite sizes too. So if you are looking for career tops just pick it from the list of categories on the left column of the Tops page. Then you can choose "Petite" or 00X or 6X in special sizes section.

House of Fraser jersey tees and classy silk blouses in size 18, 20, 22 and 24 will really flatter your curvy petite shape. They carry such brands as Ann Harvey, Jack Vert and more.

Lands' End UK plus size tops collection is of never-out-of-fashion style. They carry shirts, polo shirts, jersey tops, cardigans and more.

Lane Bryant Tops section is a must-check. If you do like any of the tees and cardigans, go to their size chart to choose the right fit top for you.

Marisota specializes in plus sizes and they have special petite shop on their UK site, so you are bound to find your favourite style and right fit top on their US or UK websites.

In Nordstrom plus-size apparel section you can find some nice tees and blouses. Their sizes come in 0X to 3X from 12W to 24W. When you choose the top you like check the size chart for that specific item to find if it truly is your size. It's easy to do at Nordstrom, as they also give the video of how to measure your body to get the right size.
Some of Old Navy's petite tees and polos come in PXL and PXXL. So do some of their petite tops, shirts and blouses in all colors and shapes. Whether you like floral, checked or one color, they have them all. ;)

SoftSurroundings sizes 18-24 Chic, comfortable, easy fit women's tops you'll love. Great choice of colors and fabrics.

Talbots Woman Petites section offers some classy petite plus size tops from 12WP to 22WP. You can also find some tees and knits in various styles: 3/4 or short sleeve, long sleeve or sleeveless.
---
Where Do You Find Your Petite Plus Size Tops?

---
Want to share the store or website where You've found petite size clothing? Jump straight into Petite Clothing Stores Page to add them.

Check where I found petite plus size dresses and petite plus size jeans
Return to Plus Size Petite main page

Leave Petite Plus Size Tops to go back to Petite Clothing Line home

Return to Plus Size Petite main page
Leave Petite Plus Size Tops to go back to Petite Clothing Line home
---