First Bra | Girls' Bra | Training Bra

The Ultimate First Bra Resource Online!
Now that you and your daughter know that it's time for her to wear a bra, you need some tips and advice in choosing that comfortable bra for her.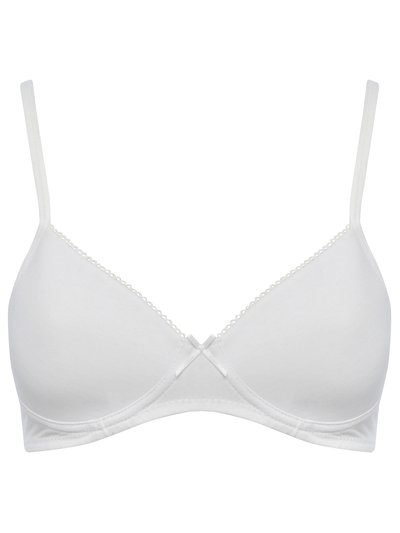 First Bra from MandCo
Recommended Stores | Hand-Picked Collection
Bra Shopping Tips for Girls

When looking for the best fitting girls' bras, look for wirefree ones, as at this age your chest will only need minimum support. If you are desperate to get an underwired bra, we suggest it should only be worn on special occasions for a couple of hours at a time. However, we would still insist on wire-free bras.
Fabrique from which the bras are made of should also matter. Go for cotton bras, they are soft and your yet developing body can breath in them.
Girls's Bra Top Collection

Recommended First Bra Stores

MandCo girl bras section is a must check. To find them all in one place though, you need to enter teens underwear or girls bras or similar in the serach products box on the top right of their site. Not easy to find them otherwise. You will have a good selection of non-wired girl-friendly bras in sizes starting from 28A.

M&S cotton rich bra tops are definitely made with 9-16 years old girls in mind. They are simple, wirefree and importantly pretty bras. They are in band sizes from 28 to 34 and cup sizes from AA to B. And you know that M&S ships internationally, don't you?

Urban Outfitters is great source if you are looking for minimum support yet stylish girls ' bras. They carry very contemporary lingerie sets, bralettes, nightwear, shapewear, slips and briefs for teens. Their bra sizes are from XS to L, 32A to 32D and 34A to 34D, 36B and 36C. Bear in mind they have student discounts and finally, they deliver to most popular destinations worldwide.
Zalando has more than 60 bras and bustiers, specially for girls from 9 to 16 years old. This is the place to be if you are tired of boring styles and looking for something more colourful and stylish and yet suitable for your still developing body. They carry such brands as Claesen's, Sanetta, Schiesser, Skiny. They feature a great selection of teen-friendly triangle bras, bustiers, t-shirt bras. you can also find matching bra and brief sets.



Use this box to find your favourite bra that ticks all the boxes just here.

To do that type "first bra", "training bra" or "teen bra" in place of "girls bra" in this Search Box and click on Go.

You can use it to search for other items of petite apparel.






Share Your Training Bra Resource

Have you found yet another girls' bras online resource? Do you want to share it with us? you can do just that by following this link to all petite clothing resources. 
First Bra Shopping Tips | Petite Lingerie | Petite Clothing Stores | Bra Fitting Advice

---