34AA Bras Online Resource
---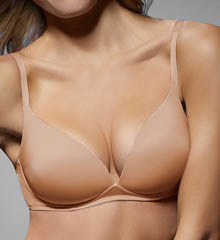 34AA Bra
Find Your 34AA Bras Just Here!
Are you sure you wear size 34 AA Bras? No? If not then measure around the fullest part of your bust and under your band and then check your right bra size here. If it's your right size, then we hope to see you back here as we have the list of best online sources for your 34AA and 34AAA Bras.

If you are reading further you are looking for 34AA or AAA cups? Right? Right. These are direct links to the online sources that we found for your size of bras.
Click on the image to read more about this 34AA cup bra or find more like it in your size | or Check 34AA top picks below | or Keep reading further to see which store features the best 34AA cup bra selection.
---
Hand-picked 34 AA Bras Collection


---
---
Stores For 34AA Bras
---
Dainty Lady is the UK designer and manufacturer of petite cup bras from sizes 28 to 42. You can find cups AAA to B. You can also find petite briefs and thongs to match your petite bra. Prices vary from £10.00 to £45.00.
Debenhams, UK store that features all items of petite clothing as well as lingerie for petite women. Their bra sizes vary from 28A to 48E. Their A cups come in sizes 28-38, AA cups are in sizes 28-34. You can find 2 pack bras for under £20. They deliver internationally.

Little Women sells bras of sizes 28-40 with cups AAA, AA, A and B. Their selection of bras also include top lingerie brands such as Royce, Yotti, Sloggi Slim and their own brand Little Women. Their current prices start from £11.50 to £29.95.
Lula Lu offers all small size bras including your 34AAA or 34AA bra size at prices starting from $26 to $64. This link will take you directly to the page with bras size 34AA available on the site. Free shipping is possible on US orders over $100. International shipping is possible as well, however, you need to check the list of the countries they deliver on their website.
HerRoom's 34AA cup bras start from $15.00 and can go up to $65. The link will take you to the main page where you need to choose the Bra size and also if you want the color, the brand and the style you prefer. You can also choose it to show you the best selling bras for your size, or bras from highest price to low, by brand or customer ratings and so on.
Marks and Spencers  AA cups are in sizes 28-36 and A cups are from 28-44. Size 28 bras for petite framed women come with cups A to DD. And they ship to many countries worldwide too.
YesStyle carries Asian Fashion lingerie items from Japanese and Korean Brands. You'll need to look for the item you need by typing in the search box, if it is other size bras than 34AA.

The prices we show on this page are just to give you an idea about each store's general pricing.
---
More 34AA Cup Bras
---
This search box is showing the results of my serach for 34 AA Bras. You can also use this search to look for other items of petite apparel, petite lingerie and more. Just type the search item in the box below and click "Go".

More Petite Bras Related Links
---
Back to Petite Lingerie
Leave 34AA Bras to go back to Petite Clothing Line home page
---