---
All Small Bra Sizes in One Place

---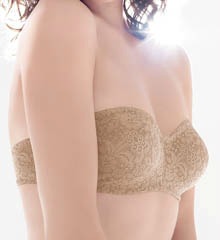 Small Bra Stores | Check Your Bras Size

Women may be looking for small size bras meaning the cup size or chest size. However, no matter which bra size you mean you can fidn them all here. I refer to petite bras as small chest size bras like: 28 - 36. And when you say small bras I assume you are looking for small cup sizes like AAA, AA, A and B cups.
When you are ready to buy your bra do check the store size chart to make sure that it is your right size with that brand or store. Sometimes I find there can be a slight size difference from one manufacturer to another. Don't rush as choosing your exact size lingerie is very important if you want to look and feel good. ;)
Wacoal 32B bra from HerRoom                                                                                         Find More Small Bras Like this one

---
Stores for Small Bras

---
HerRoom is a must-check petite lingerie store if you are looking for small or petite bras. They carry bras of popular brands among petite womens such as Amoena, Hanky Panky Lulalu, The Little Bra Company, Wacoal, Wonderbra and more. They carry all styles from sexy lingerie to maternity, bridal, nursing, sports bras and more. A cups from 28 to 48, AA bras in cups 28 to 46, B cup bras in chest sizes 28 to 58.

Little Women carries lingerie in small sizes with bras in three popular A cup sizes and B cups, and chest sizes 28-40. 

Lulalu features AAA cups, AA cups and A bras for women with small chest sizes. You can also shop for other items of petite lingerie. Their bra chest sizes start from 30 to 38. Apart from tgheir own brand they also carry lingerie from other well-known brands such as Bedhead, Embrace, Fashion Forms, Hanky Panky, Sexy n Seconds, Sisi and others.

The Little Bra Company specializes exclusively in petite lingerie with A cup bras in chest size 28-38, B cups - 28-36 and C cups 28-34. So whether it is a small or a petite bra that you are looking for you can find them all by following the link above to their home page.
---

Your Ultimate Bra Finder

---
Use this search box to look for your hard to find bra sizes. All you need to do is enter your bra cup chest sizes (ex. 32b bra, 32b cup) in the box where it says AA bra. If you don't get good results then try other variations of the keyword you enter. I am sure you'll soon find what you are looking for. Good Luck.
Return to Petite Clothing Line Home

---