Petite Bras Online - Hard to Find Sizes

Petite Bras Stores - 28B, 30B, 32B | AA Cups | AAA Cups

Choosing your bra in right size is very important, as a bra is the most essential item in your wardrobe. It's the foundation of how-to-look-good. There are quite a number of online stores now that carry lingerie for petite women. However it's not an easy task to find yours.
---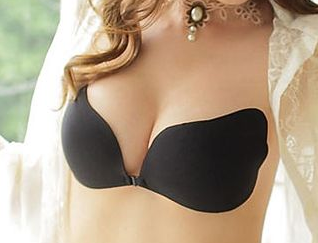 Petite Invisible Push-Up Bra
Stores for Petite Bras | 28B - 30B - 32B
---
Check out these online sources to find your petite size bras:
Amazon  is a great source when looking for petite lingerie, as it lets you narrow your search down by size, special size, color, brand, ratings. You name it. It has a good selection of bras for any size and taste. So do spend some time and you find exactly what you are looking for.

The Little Bra Company specializes in hard-to-find small size bras A cups from 28 to 38, B cups 28-36, C cups 28-34. You can also find panties, thongs and boyshorts from size XS and up.

Her Room has a large selection of small bras starting from 28AA to 40AA and 28A to 50A, as well as all other available bras sizes, including 28B, 30B and 32B. Brands like Wacoal, Wonderbra, The Little Bra Company and many others.

Lula Lu offers bras AAA cups of sizes 32-36, AA cups of 30-38 and A cups sizes 30-38, B and cups of sizes 32-36. They also carry shapewear, sleepwear, swimwear, panties, slips and other fun stuff. International shipping is possible for a good number of countries, the list of which you can check on Lula Lu official website.
John Lewis carries some teen bras in size 28b as well as other cups size in 28A, 28C, 28D, 28DD, 28E, 28F, 28FF and 28G.
Marks and Spencer petite lingerie always been of an outstanding quality. So you can definitely find your first bras, as well as teen bras, sports bras made of cotton rich material.
YesStyle japanese and korean style bra brands are naturally petite friendly. You can find bra tyles from sexy bandeaus and bralettes to maternity bras all in one place and at affordable prices.

Petite, when it comes to bras doesn't really mean smaller cups. It refers to the bra band size. Petite size bras come in sizes 28, 30, 32 no matter what the cup sizes are. So if your bra band size is small then you definitely can find your bra size here.

All the stores specializing in petite lingerie usually carry bras for women with small bust sizes. Most popular petite sizes are: 28AAA, 28AA, 28A, 28B, 30AAA, 30AA, 30A, 30B, 32AA, 32A and 32B.
You can find your AA cups in any cup sizes in 28, 30, 32 and other bra band sizes by following the links on the center-right of this page. Just choose your bra size. Find your B cups further down this page. Good luck.
Related Pages
Back to Petite Lingerie  |  Bra Designs
Leave Petite Bras to go back to Petite Clothing Line home page
---